Special Education Needs Provision
Children with special educational needs (SEN) are children first and have much in common with other children of the same age. There are many aspects to a child's development that make up the whole child, including – personality, the ability to communicate (verbal and non-verbal), resilience and strength, the ability to appreciate and enjoy life and the desire to learn.
Each child has individual strengths, personality and experiences so particular disabilities will impact differently on individual children. A child's special educational need should not define the whole child.
Special educational needs may arise from four different areas of impairment:
• Physical
• Sensory
• Mental health
• Learning difficulties
• Or from any other condition that results in the child learning differently from a child without that condition
ADSP believes that children with special educational needs (SEN), have a right to an education which is appropriate to their needs. The aims of education for pupils with special educational needs are the same as apply to all children.
Education should be about enabling all children, in line with their abilities, to live full and independent lives so that they can contribute to their communities, cooperate with other people and continue to learn throughout their lives. Education is about supporting children to develop in all aspects of their lives – spiritual, moral, cognitive, emotional, imaginative, aesthetic, social and physical.
Types of difficulties which ADSP Caters for:
• Learning Difficulties (Mild to Moderate)
• Down's Syndrome
• Autism Spectrum Disorder (Mild)
• Cerebral Palsy
• Cleft lip/Palate
• Dyslexia
• Rare Disorders like Noonan's Syndrome, Apert's Syndrome & Pitt Hopkins Syndrome
Multidisciplinary Team Approach
A multidisciplinary team approach is fundamental to delivery of specialised education. The Health Professionals of ADSP, namely speech and language therapist, occupational therapist and general practitioner work together with teachers and classroom assistants to:
• Assess students with SEN at ADSP
• Devise and implement individualised care plans and education programmes for children to follow in the classrooms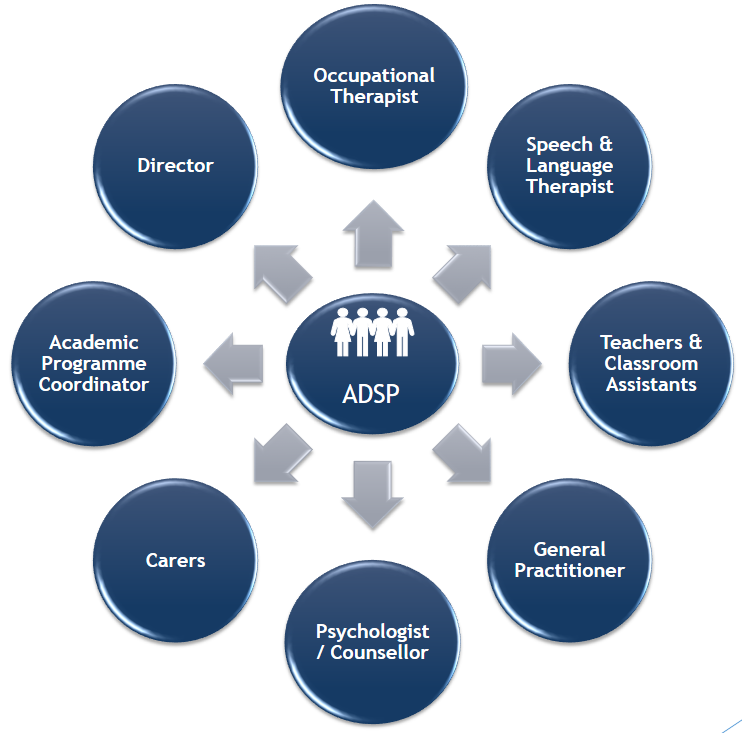 Small Group Learning Approach
Small group learning is an educational approach used at ADSP within the classroom setting. The group work is carefully planned. The facilitator who is either an educator or therapist, assesses and evaluates the group function and the learning which takes place.
Small group learning allows students to develop problem solving, interpersonal, presentational, and communication skills, all beneficial to life outside the classroom.
Holistic Approach to Learning
The purpose of holistic education is to prepare students to meet the challenges of living as well as academics. Holistic education believes it is important for young people to learn:
• About themselves.
• About healthy relationships and pro-social behaviour.
• About values important to live a respectful life.
• About tools facilitating their daily living.
• About Skills which can prepare them for employment.
Individual Education Plan (IEP)
An IEP or Individual Education Plan is a plan or programme designed for children with SEN to help them to get the most out of their education. An IEP builds on the curriculum that a child with learning difficulties is following and sets out the strategies being used to meet that child's specific needs. It is a teaching and learning plan and should set out targets and actions for the child that are different from or additional to those that are in place for the rest of the class.
The IEP allows schools and staff to plan for progression, monitor the effectiveness of teaching, monitor the provision for additional support needs within the school, collaborate with parents and other members of staff and help the child become more involved in their own learning and work towards specific targets.
Early Intervention Approach
Early Intervention encompasses educational and therapy support services which helps to equip children who have special needs with key foundational developmental skills. Years of research have proven that Early Intervention is highly successful in helping children with developmental delays reach their full potential. Early intervention should begin between the ages of birth and school age as it is important to maximize the potential of the child during the optimal developmental window.
Therefore, at ADSP, our Early Intervention Programme serves children from two to five years of age who have a developmental delay or who are at risk for developmental delay. It offers individualised learning programme which is designed in the areas of physical, cognitive, communication, social or emotional, or adaptive development to address needs and build school readiness.